Ongoing quality control
When Every Minute Counts
ATOS ScanBox makes it possible: non-stop quality control
Automated optical 3D measuring machines accelerate your processes, identify sources of error at an early stage and ensure your competitiveness.
Many companies have to rethink their production and quality control processes due to customers' increasing quality requirements for their parts, ever-more complex geometries or "just-in-time" production. Data aggregation and processing require high-performance 3D measuring systems as does measuring the parts at required speed. Many companies already use the ATOS ScanBox optical 3D measuring machine to generate these data directly in-line, thus saving costs and time.
The standardized ATOS ScanBox systems compare all of the part's actual 3D coordinates with its CAD model or measurement plan specifications and generate inspection reports right next to the production line. The optical 3D measuring machines come in 11 different models for different applications and part sizes - from locking hooks to complete car bodies - and ensure fast automated measurements with optimum precision. The ATOS ScanBox systems deliver accurate and traceable results, guarantee high throughputs and are easy to operate thanks to an intuitive user interface and the virtual measuring room (VMR) as the central control and measurement planning software. This all-in-one solution covers all process steps from programming to automated digitization, inspection and reporting.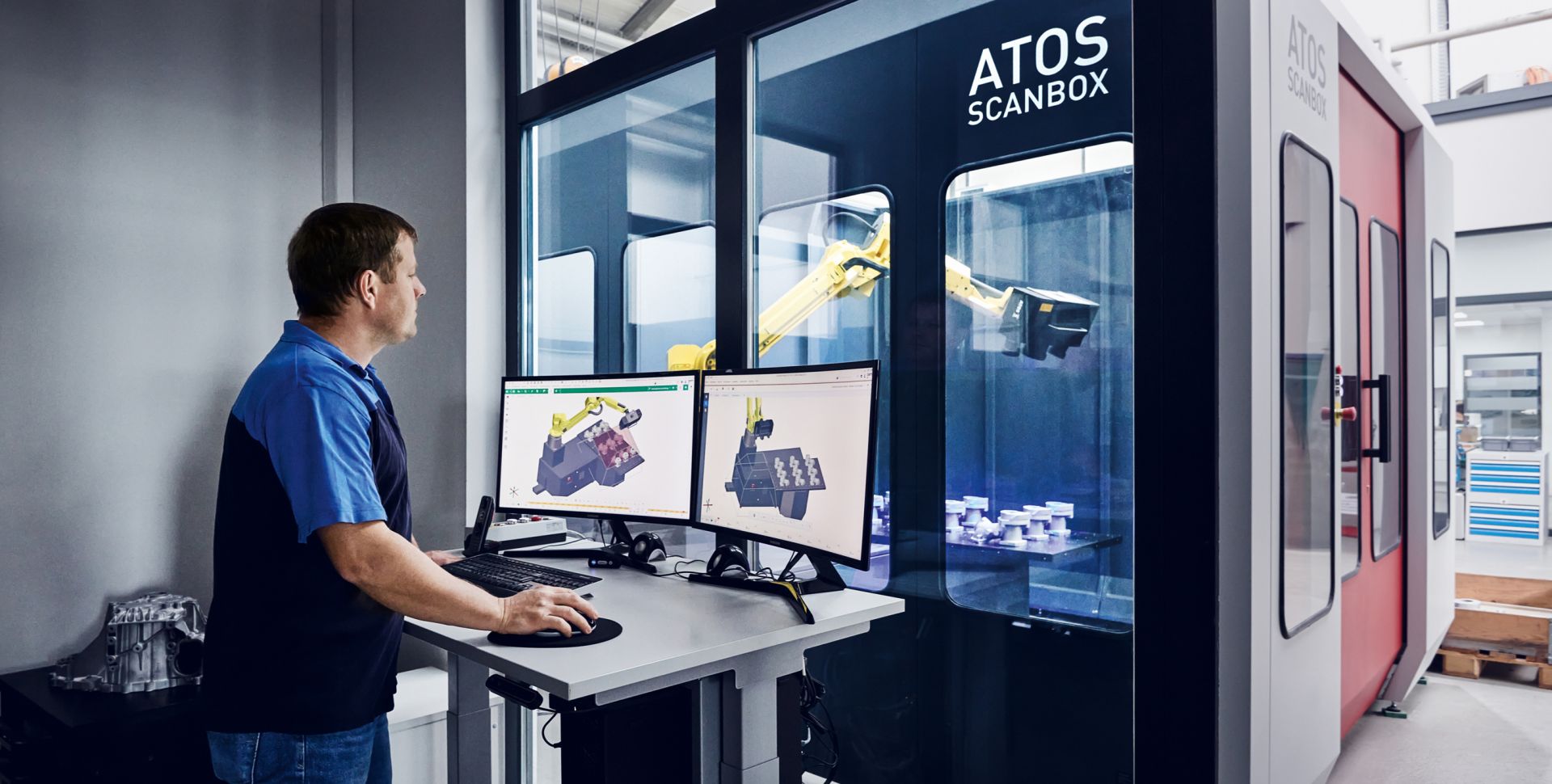 5 reasons for automated quality assurance
Shorter measuring times 
Particularly for parts with complex geometries or free-form surfaces, ATOS ScanBox yields 50 - 80 % faster full-field measurements.  
Easy operation 
Plan your measurement sequences with just a few clicks and perform them with a fully automated procedure in the virtual measuring room (VMR) in GOM Inspect Pro.  
Numerous applications 
The various ATOS ScanBox systems for part sizes from 500 to 2,000 mm are complete systems that can be placed directly on the shop floor saving ways, time and costs. 
Effective analysis tool 
GOM Inspect Pro automatically generates GD&T information as well as trimming and hole positions – and is considered the industry standard for metrology software. 
Powerful in many industries 
ATOS ScanBox has established itself worldwide as the preferred measuring system for production control in a wide range of industries, such as automotive, aerospace or energy.