ZEISS ScanBox
Efficiency Through Automation
Quality control during production
According to the World Robotics 2022 report published by the International Federation of Robotics (IFR), the five most-automated countries in manufacturing are: South Korea, Singapore, Japan, Germany and China. Thanks to large investments, the robotics industry has been growing steadily for several years. For example, the average robot density more than doubled compared to 2015. The reasons for using robots are obvious: Manufacturing companies benefit from lower production costs, reduced cycle times, higher throughputs, consistent product quality and increased efficiency.
This high level of automation is also evident in quality assurance, where processes must be continuously adapted to ensure a company's long-term economic success. Increasing customer demands on part quality, ever-more complex geometries or just-in-time production require many companies to restructure their production and quality assurance processes. Data aggregation and processing ­require highperformance 3D measuring systems as does measuring the parts at the required speed. 
Many companies in the automotive, aerospace and energy sectors are already using the ScanBox optical 3D measuring machine to generate these data directly on the shop floor, thus saving costs and time. The standardized ScanBox systems compare all of a part's actual 3D coordinates with its CAD model or measurement plan specifications and generate inspection reports right next to the production line. The
optical 3D measuring machines for different applications and part sizes ensure fast automated measurements with optimal precision. Companies benefit from accurate and traceable results and high throughputs. Thanks to an intuitive user interface and the virtual measuring room (VMR) as the central control and measurement planning software, all systems are easy to operate. This all-in-one solution ­covers all process steps from programming to automated digitization, inspection and reporting.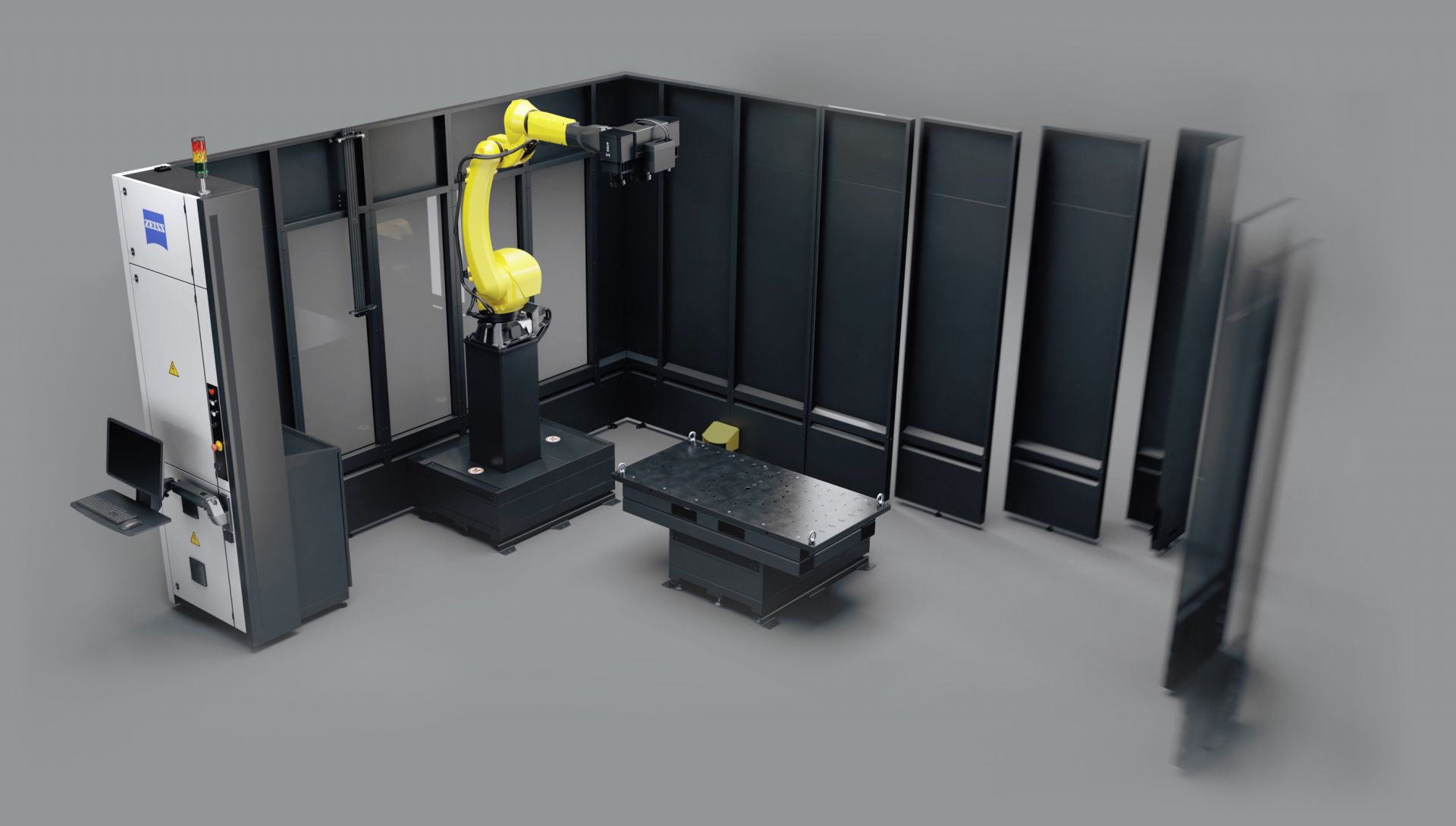 New ZEISS ScanBox Series 5
Automated. Modular. Customer-Driven.
With ZEISS ScanBox Series 5, a new modular concept has been established that adapts to changing customer needs. The robust housing and sensor design as well as the compensation for temperature fluctuations enable series measurements even in harsh environments such as foundries or the forging industry. Comprising three variants, the model series offers a high degree of flexibility and suits different application requirements: While ZEISS ScanBox 5110 is ideal for inspecting smaller parts with a diameter of up to one meter, such as turbine blades, the 5120 model allows for automated quality control of larger parts with a diameter of up to two meters, such as interior components. ZEISS ScanBox 5130 can be used for measuring hang-on parts like battery trays or tools with a maximum diameter of three meters.