#HandsOnMetrology – Made for makers
Welcome to the 3D Scanning World
On #HandsOnMetrology, ZEISS offers 3D scanning solutions, know-how and a user community that wants to get things done.
#HandsOnMetrology is a unique 3D scanning platform that connects technology buffs, designers, engineers, scientists and experts around the world. The platform provides exciting insights into the modern world of metrology and shows one thing above all: enthusiasm for the diverse applications. Be it scanning or CAD, interested newbies and users learn everything they need to know to realize their ideas, optimize processes, get inspiration or talk shop about new 3D metrology applications.
GOM Scan 1
A small scanner for high demands
The compact and portable GOM Scan 1 3D scanner is versatile and fast. The sensor uses industrial standards such as GOM's fringe projection technology and Blue Light Technology to ensure detailed and accurate 3D meshes. Thanks to the integrated GOM Inspect software you can use it for any kind of project.
Inspiring maker stories for the 3D scanning community
People who are driven by innovation, quality and perfection need the necessary tools and skills to turn their goals and ideas into reality. This is where state-of-the-art 3D scanning solutions come in because they open up new horizons for solving problems and optimizing processes. Our inspiring and informative maker videos on HandsOnMetrology.com reflect this innovative spirit: Makers from the community talk about 3D metrology and how they use it for all kinds of projects. You can really feel each maker's passion for technology while they are telling their stories or contributing to the #HandsOnMetrology network. This creates a sense of belonging and encourages the constant development of new solutions.
The MMG company from Waren an der Müritz is a case in point. This well-established company with 150 years of experience builds the world's largest marine screw propellers. It takes three to four months from design to shipment to build such propellers from up to 300 tons of molding material. Different types of control and inspection steps are required throughout development and production. Michael Beuster, Head of Optical Measurement, is thus especially excited about the flexible use cases for the portable equipment: "The great advantage of our measuring system is that we can use it wherever we need it in our company."
At the Brussels-based Cowboy company, on the other hand, the focus is on the benefits of 3D scans for design development. The start-up was established in 2017 and specializes in e-bikes for urban commuters. The wheels boast a purist design and the engine uses algorithms to calculate the power required for optimal driving comfort at any given moment. Olivier Fourier, head of the development team, especially appreciates the high measuring speed: "We can now scan a bicycle or bicycle part in no time with 3D scanning. This helps us to optimize processes to better match the parts, identify the design flow, or to improve performance."
T-SCAN hawk
The portable 3D scanning solution
T-SCAN hawk is the portable all-in-one solution for 3D scanning and inspections. Thanks to its compact design, it is well suited for confined spaces and hard-to-reach areas. The preinstalled GOM Inspect software manages every step from scanning down to reporting.
For all those who want to dive deeper
#HandsOnMetrology helps interested users to put their applications into practice. The Getting Started videos have become a regular feature of the site, while the How to videos deal with specific questions. In One-Minute insights professionals give in-depth explanations of the GOM Inspect 3D metrology software functions.
Do you have any specific questions or have you reached a dead end with a challenging project? The global network of experts is happy to discuss your project with you. Our worldwide virtual demos are ideal for dealing with specific issues: Join online sessions in small groups and discover, for instance, how GOM Scan 1 can simplify your professional scanning jobs. You can even send in a part beforehand and then discuss the measuring tasks and results with the other participants during the session.
Even better, meet up with us live on our #HandsOnMetrology Tour and test out our 3D scanning solutions for yourself. Discover the pioneering measuring systems of ZEISS together with experts and other users.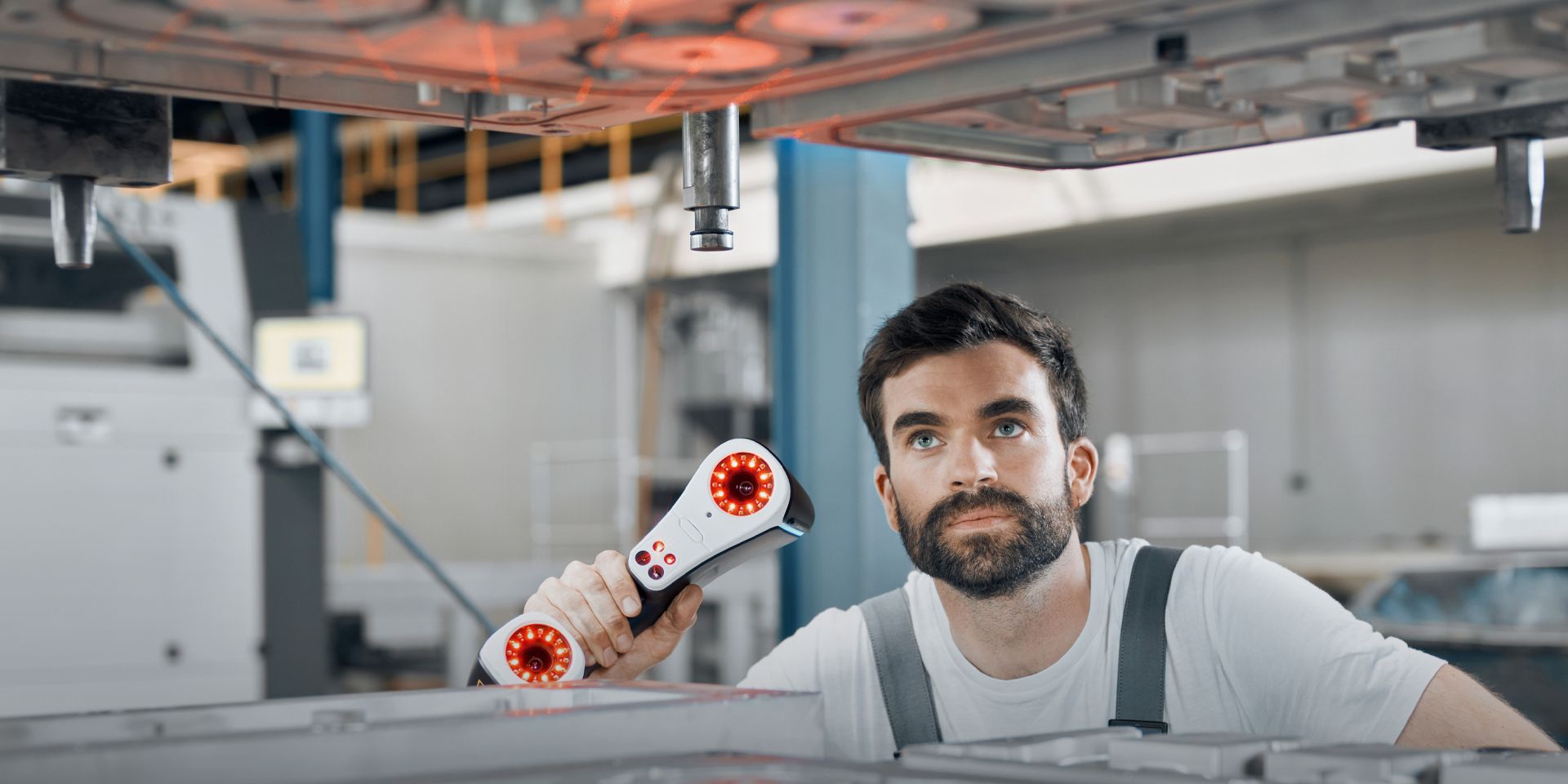 GOM Inspect Software
GOM Inspect is the comprehensive, user-centric 3D metrology software that tackles every challenge. It has one user interface that handles the entire workflow, which covers complex inspection tasks in different applications. You can easily visualize surface inspections, perform GD&T analyses, generate reports and more.
ZEISS Reverse Engineering
ZEISS Reverse Engineering is our software solution for professional reverse engineering of geometric, freeform or organic shapes. It quickly transforms 3D scan data, such as polygon meshes or point clouds, into highly precise CAD models.
ATOS Q
Versatile 3D scanning system for the industry
The precise, flexible and reliable ATOS Q 3D scanner was designed specifically for industrial purposes and complex measurement and inspection tasks. Its Triple Scan Principle is ideal for measuring reflective surfaces and rough objects.